An American Express Travel Representative
General Company Information
In Business Since:
50+ Years Of Travel Expertise
Sales Volume:
$100 Million and Over
Number of Host Agents:
200 and Above
Program for New Agent Training:
Yes
Mentoring Program:
Yes
Do You Offer Leads?:
Yes
Consortia Memberships:
American Express
Association Memberships:
BBB, ASTA, CLIA, IATAN, NACTA, CCRA
Preferred Tour Operators:
Top Tour Operators and Resorts.
Preferred Cruise Lines:
Top Cruise Lines. Voted 'Partner of the Year' by Royal, Celebrity, Norwegian, Oceania and many more.
Air Ticketing Available?:
Yes
Do You Offer Accounting / CRM Software?:
Yes
Do You Offer a Website Tool for Independent Agents?:
Yes
Consumer Website?:
www.AvoyaTravel.com
Program Details and Information
Avoya Travel, an American Express Travel Representative for over 30 years, traces its roots back more than 50 years to a Hawaiian travel company owned by the Andersons with a reputation built on Integrity and Professionalism™. Avoya is recognized as the best and most-awarded host agency, and has continued to see record success year over year in its network of elite travel professionals. Independent Agencies in the Avoya Network™ are among the highest performing in the industry with access to top-tier commissions, the highest quality support, Avoya's Live Leads™ program (new clients sent directly to you), patented technology, award-winning marketing, and much more! Avoya has programs for both experienced travel professionals and entrepreneurs new to the industry. Travel agency owners, travel professionals, and others interested in owning and operating their own travel business should contact Avoya Travel at 1-888-388-5258 or visit 
www.JoinAvoya.com
.
Join The Future Of Travel, Today.
Media and Miscellaneous Information
Avoya Is Redefining The Role Of Travel Agents
As a world-class trade and consumer-recognized brand, Avoya is continuously innovating and improving the vacation planning and booking process, placing travel agents at the center. Not only does Avoya provide Independent Agencies in the Avoya Network best-in-class resources and support, but also unique offerings that allow agents to personalize their service and add value to their clients. Join us in the next chapter of travel and become part of the Shared Success™ today!
Experience The Avoya Advantage™
Live Leads™ – New Clients Accessible 24/7
Patented Technology – Agent Power™
Award-Winning Marketing
American Express Travel Programs And Benefits
Top-Tier Supplier Commissions
Stellar Reputation
Avoya Is A Different, Better Type Of Travel Network. Learn More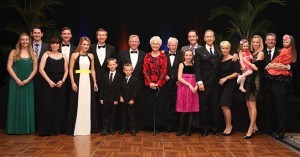 The Anderson Family, Owners of Avoya Travel
FindaHostTravelAgency.com's Review
Avoya Travel successfully brings together an amazing staff of dedicated professionals, top industry suppliers and dedicated travel professionals thereby creating a perfect blend for growth and prosperity for all. We have known the Anderson family for over 30 years and have watched each generation innovate and create new and trendsetting opportunities for agents to generate excellent income and prosperity. We are proud to call them friends and colleagues.
Back to Host Agency Profiles